This internet browser is outdated and does not support all features of this site. Please switch or upgrade to a
different browser
to display this site properly.
Units in second semester 2021 may be delivered online and in alternative formats whilst restrictions in relation to the COVID-19 pandemic are in place.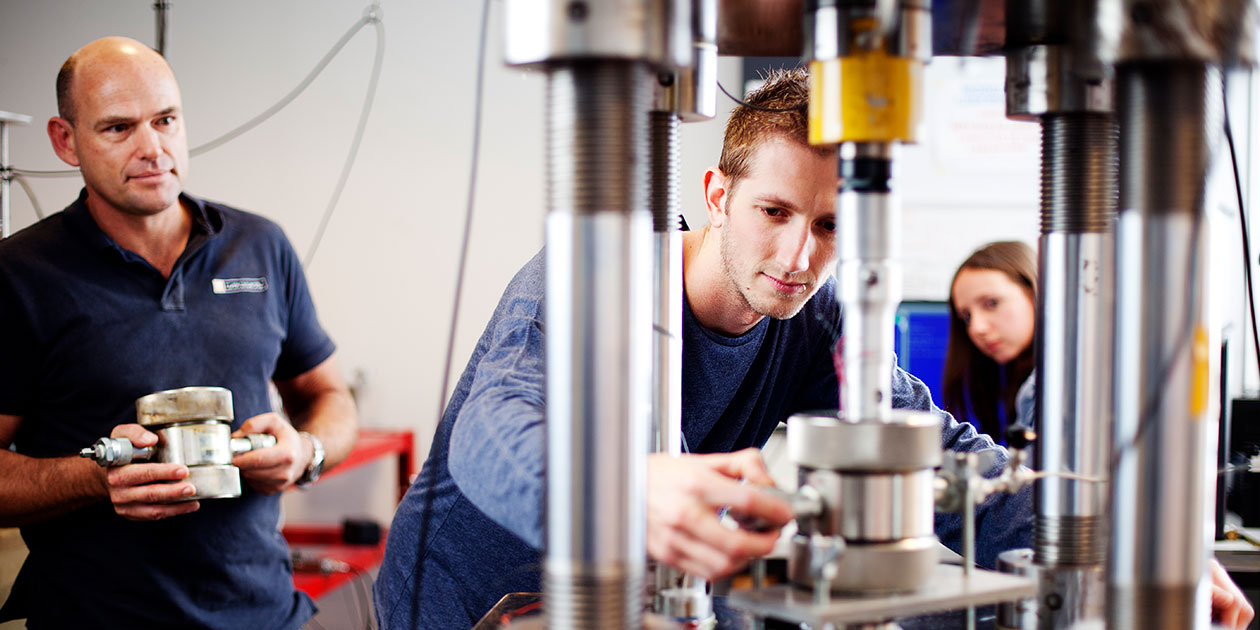 Geophysics
Postgraduate Major
MJRP-GEOPM
Major

Geophysics Major (MSc Science)
400
Outline
Advance your understanding of geophysical exploration methods, industry-standard equipment and software.
Units in second semester 2021 may be delivered online and in alternative formats whilst restrictions in relation to the COVID-19 pandemic are in place.
Highly ranked course
Curtin is ranked 40th in the world for earth and marine sciences (QSWUR by Subject 2020)
Top 1 %
Curtin is ranked in the top one per cent of universities worldwide.
Academic Ranking of World Universities 2020.
Get the Curtin edge
Access to leadership programs, specialist facilities and industry placements give you a competitive edge in the job market.
Geophysics is a branch of Earth sciences that uses physical phenomena to remotely image and characterise the subsurface, with applications in mining, oil and gas, geothermal, groundwater, and carbon underground storage industries. 
Geophysicists use seismic, magnetic, electromagnetic, radiometric and gravitational technologies and techniques to determine the structure and composition of natural, and sometimes artificial, materials below the Earth's surface, without the need for drilling and excavation.
This course is designed for students who have completed an undergraduate geophysics, science or engineering degree and wish to enhance their career prospects with an additional qualification in geophysics. 
It offers a solid grounding and practical training in a range of geophysical exploration methods, including data acquisition, processing, and interpretation.
You will gain hands-on experience using industry-standard equipment and software. You will also become more familiar with recent geophysical developments through a range of coursework units and investigative projects. 
This major sits within the Master of Science (Science) degree. To apply for this major, you will apply for the Master of Science (Science).
Please refer to the handbook for additional course overview information. 
Why study
Our courses are taught using a hands-on, practical approach and have direct industry involvement
Graduates enjoy excellent employment opportunities
Our staff maintain excellent links to industry bodies
Lecturers have real industry experience
Our courses are tailored to meet the needs of industry.
Professional recognition
The Commonwealth Public Service Board accepts this course as satisfying its requirements for appointment as a professional geophysicist. A degree in geophysics satisfies the academic requirements for membership to the Australian Society of Exploration Geophysicists, the Australasian Institute of Mining and Metallurgy, the Society of Exploration Geophysicists (USA) and the European Association of Geoscientists and Engineers.
What you'll learn
apply discipline, knowledge, principles and concepts; apply modern geophysical methods to exploration problems in petroleum, mineral and groundwater exploration; evaluate new methodologies
think critically, creatively and reflectively, analyse geophysical approaches to gathering subsurface information
access, evaluate and synthesise information, locate, appraise and select publicly available literature and data in printed and electronic media
communicate effectively; report on new geophysical development to industry, government and academia using written and oral presentations
use technologies appropriately; select best geophysical methods for given problems; be familiar with modern geophysical instruments and computer software; use electronic resources for communication
utilise lifelong learning skills; demonstrate an ability to learn independently
recognise and apply international perspectives; recognise the global nature of geophysical problems and regional issues relating to exploration for resources
demonstrate cultural awareness and understanding; demonstrate an understanding of the cultural impact of resource exploration and development
apply professional skills; conduct, organise and report upon a geophysical research project; apply a professional approach to working with individuals and organisations; demonstrate an ethical approach to using data and reports
Help
Help is at hand
See our frequently asked questions or get in touch with us below.
---
Opening hours:

Mon to Fri: 8.30am – 4.30pm, except Tues: 9.30am – 4.30pm (AWST). Closed public holidays.
The offering information on this website applies only to future students. Current students should refer to faculty handbooks for current or past course information. View courses information disclaimer.

Curtin course code:

MJRP-GEOPM

Last updated on:

February 12, 2021
What kind of study are you interested in?