This internet browser is outdated and does not support all features of this site. Please switch or upgrade to a
different browser
to display this site properly.
Units in first semester 2021 may be delivered online and in alternative formats whilst restrictions in relation to the COVID-19 pandemic are in place.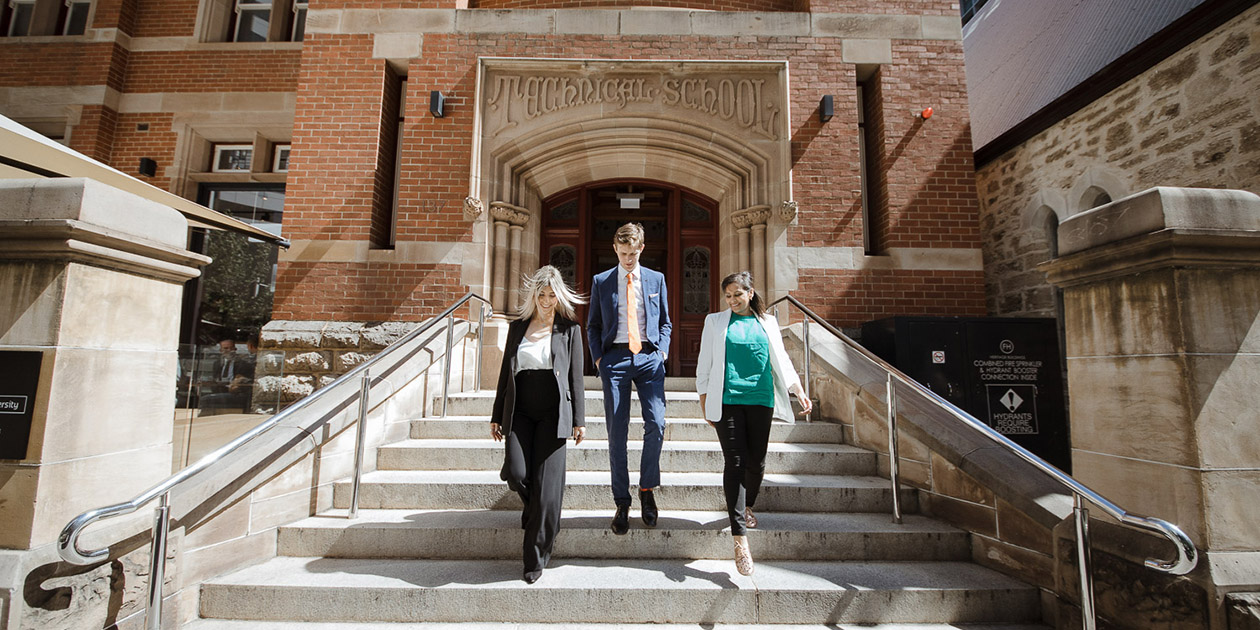 Legal Practice
Graduate Diploma
GD-LAWLP
Outline
Gain eligibility for admission to practise law in Western Australia.
Units in first semester 2021 may be delivered online and in alternative formats whilst restrictions in relation to the COVID-19 pandemic are in place.
Surina Maharaj
I chose Curtin's Graduate Diploma in Legal Practice over other providers' programs, because Curtin emphasised practical learning. The face-to-face sessions with those engaged in the profession and the fact that it was relatively easy to fit the program in with full-time employment, were also drawcards.
Top 1 %
Curtin is ranked in the top one per cent of universities worldwide.
Academic Ranking of World Universities 2020.
Get the Curtin edge
Access to leadership programs, specialist facilities and industry placements give you a competitive edge in the job market.
Global education
You'll have access to a range of international study opportunities.
This is a specialised Practical Legal Training (PLT) course aimed at law graduates. 
It is approved by the Legal Practice Board of Western Australia and is the first PLT program to be delivered by a Western Australian university. Topics of study cover civil litigation practice, commercial and corporate practice, property law practice and lawyers' skills. 
You will receive a quality, practical legal education, delivered in the heart of the Perth CBD and legal precinct. We offer the convenience of evening classes, so you can continue to work and study at the same time. You will also receive weekly, face-to-face contact with legal practitioners.
You will have opportunities to undertake work experience for credit in tandem with your coursework, such as an optional 10-week work placement at the John Curtin Law Clinic (limited places by application). You will work directly with clients, providing advice on real matters, learning to manage files using practice management software and be mentored and supervised by experienced legal practitioners.
Read more about the course structure
You may be eligible to apply for early commencement of the Curtin PLT before completion of your LLB in certain circumstances, provided you have obtained prior approval from the Legal Practice Board of Western Australia. Read more 
To discuss your eligibility for early commencement of the Curtin PLT, please contact us.
Please refer to the handbook for additional course overview information.
Why study
Gain practical, integrated workplace training with the option to guarantee legal workplace experience through the John Curtin Law Clinic (limited places by application).
Study under experienced Western Australian legal practitioners.
Learn to use industry-standard legal practice management software.
Manage your work and family commitments with our flexible study modes, with the option of intensive and part-time coursework modes.
Professional recognition
The Graduate Diploma in Legal Practice degree is an approved qualification by the Legal Practice Board of Western Australia.
Career information
Careers
Industries
Banking and finance
Courts and tribunals
Government
Law
Resources and renewables
Private legal practice
What you'll learn
research, interpret and apply knowledge of Western Australian and Commonwealth legal concepts, theory, procedure, statutory rules, case law principles, work management and business skills and professional ethical responsibilities to understand, evaluate and apply them in legal practice
critically and creatively analyse complex legal problems to effectively identify and articulate the issues involved, generate innovative options and apply legal reasoning to make a considered choice between competing solutions which best serves the needs of the client
identify, access, assess and synthesise relevant information from a client, primary legal sources such as cases and legislation and secondary sources such as journal articles, commentaries, relevant websites and precedents (including electronic versions of these sources), identify all relevant issues and gather and present relevant information in practical oral and documentary advice, legal documentation and communications
identify and evaluate the needs of a client and the purpose of a proposed communication; accurately confirm instructions, effectively undertake inquiries, communicate the outcomes of legal research and analysis effectively, appropriately, practically and persuasively to colleagues, clients, courts and tribunals, other professionals and the broader community
use appropriate electronic resources (law libraries, on-line searches, electronic data bases, legal citators and digests) - for advanced legal research and precedent identification purposes, use appropriate institutional databases for search and lodgement functions for legal documents, understand appropriate technologies to maintain trust and office accounts and file management and be able to communicate effectively in electronic forms
use learning by doing and observing, documenting in writing and critically reflecting on their own and others' performance as legal professionals, making use of feedback as appropriate, demonstrating intellectual curiosity including via research tasks and problem solving, and demonstrating an understanding of resilience and well-being in the legal profession
understand the similarities and differences between local and other jurisdictions, including interstate and overseas jurisdictions, and be aware of the client's and other practitioners' perspectives, be able to effectively represent clients in negotiations by recognising other perspectives and apply best practice file and client management practices
demonstrate a highly developed understanding of, and be able to identify and respond appropriately to, cross-cultural verbal and non- verbal communication issues, particularly indigenous cultures and the possible effect that these issues may have upon a client's dealings with the police, courts, government and legal agencies
understand, apply and demonstrate professional responsibility and professional courtesy in all dealings with clients, the courts and tribunals, the community and other practitioners and demonstrate ethical legal practice and professional integrity when working within a team and independently
Help
Help is at hand
See our frequently asked questions or get in touch with us below.
---
Opening hours:

Mon–Fri: 8:00am–5:00pm (UTC+8) excl. public holidays.
The offering information on this website applies only to future students. Current students should refer to faculty handbooks for current or past course information. View courses information disclaimer.

Curtin course code:

GD-LAWLP

CRICOS code:

096301D

Last updated on:

November 25, 2020
What kind of study are you interested in?