This internet browser is outdated and does not support all features of this site. Please switch or upgrade to a
different browser
to display this site properly.
Units in second semester 2020 may be delivered online and in alternative formats whilst restrictions in relation to the COVID-19 pandemic are in place.
This course is not available for international students.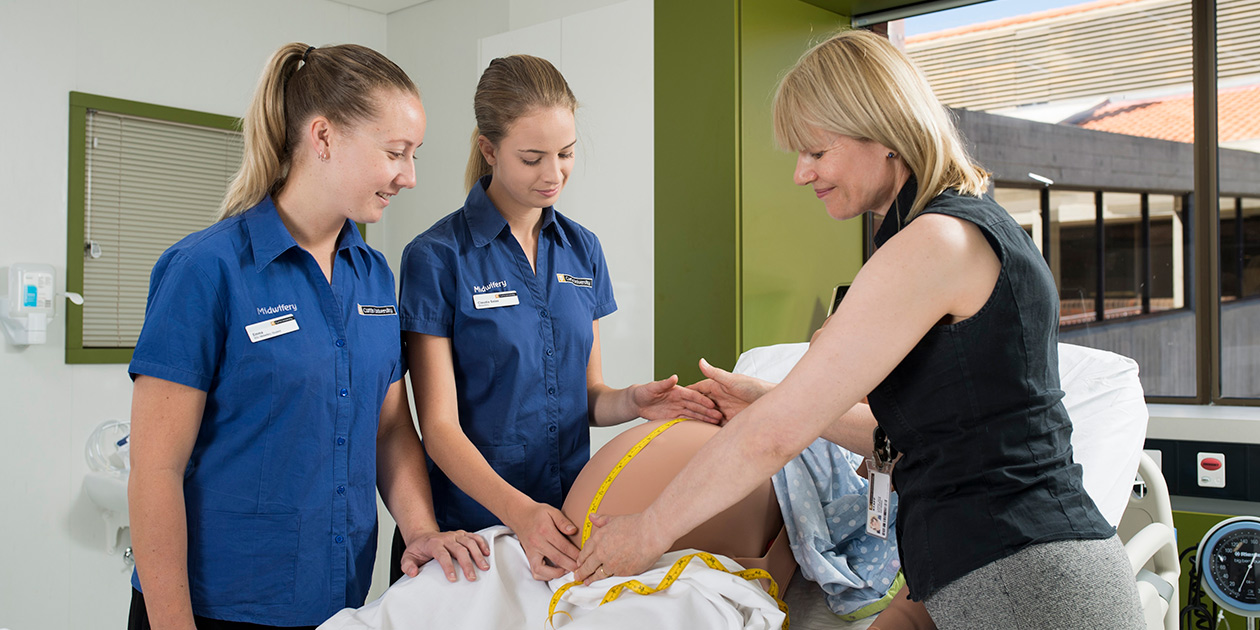 Master of Midwifery
Masters by Coursework (Graduate Entry)
MG-MIDW
Outline
The Master of Midwifery emphasises the close integration of evidence based theory and clinical practice.
Top 1 %
Curtin is ranked in the top one per cent of universities worldwide.
Academic Ranking of World Universities 2020.
Get the Curtin edge
Access to leadership programs, specialist facilities and industry placements give you a competitive edge in the job market.
Global education
You'll have access to a range of international study opportunities.
The Master of Midwifery is a two-year graduate entry master program leading to ELIGIBILITY TO APPLY FOR REGISTRATION as a midwife with the Nursing and Midwifery Board of Australia. A graduate entry master is a fast and intensive course which allows the applicant to change their career direction quickly.
Midwives work in a variety of settings such as clinics, hospitals, community practices, birthing centres or in the woman's home. The Master of Midwifery emphasises the close integration of evidence based theory and clinical practice. Theory content is comprehensive and includes the physical, biological, psychological and social sciences.
What you'll learn
actively support culturally safe, values-led care for all women and babies through the development of personal and professional skills for cultural competence
appraise reflectively, critically and with initiative to apply midwifery knowledge and skills within dynamic and complex midwifery contexts
distinguish the importance of skilled professional midwifery care for women and babies in an international context
critically analyse scientific literature and health standards; synthesise and integrate into woman centred-care; engage with health and scientific information when seeking, evaluating and using data related to midwifery care and clinical decision-making
demonstrate proficiency and make informed decisions on therapeutic interventions by utilising current technology to inform midwifery practice for the delivery of safe and effective care
communicate effectively, to meet the woman's needs, establish collegial relationships with interprofessional teams and promote midwifery within the community in the broader contexts of primary healthcare and public health policy
analyse and practice the values intrinsic to midwifery practice; demonstrate critical reflection and the ability to enhance the development of self and others; demonstrate leadership skills
examine current midwifery health legislation; work in an autonomous accountability framework within the scope of ethical and legal midwifery practice as a member of interprofessional teams
appraise and access opportunities for lifelong learning and enhance personal knowledge and skills to further contribute to the midwifery profession
Entry requirements
Curtin requires all applicants to demonstrate proficiency in English. Specific English requirements for this course are outlined in the IELTS table below.
IELTS Academic (International English Language Testing System)
Writing
7.0
Speaking
7.0
Reading
7.0
Listening
7.0
Overall band score
7.0
Please refer to English language requirements for Nursing and Midwifery courses for detailed information on how to meet English proficiency for this course.
Advanced standing
At Curtin, we understand that everyone's study journey has been different.
You may have already studied some of the units (subjects) listed in your Curtin course at another educational institution, or you may have work experience that matches the degree requirements.
A successful CRL application exempts you from having to complete certain units within your course and means you could finish your degree in a shorter amount of time.
CRL is also known as recognition of prior learning, advanced standing and credit transfer.
Use the CRL search to find out how much CRL you qualify for, or contact us at:
Email: ci-enquiries@curtin.edu.au
Tel: +61 8 9266 5888
Location
For start dates, please view the academic calendar.
On Campus
Semester 1 and Semester 2
All endeavours are made to ensure location information for courses is up to date but please note they are subject to change.
The University reserves the right to withdraw any unit of study or program which it offers, to impose limitations on enrolment in any unit or program, and/or to vary arrangements for any program.
How to apply
Please review information on how to apply for the campus of your choice
Please note that each campus has different application deadlines. Please view our application deadlines page for further information.
Apply now
Help is at hand
See our frequently asked questions or get in touch with us below.
Opening hours: Mon–Fri: 8:00am–5:00pm (UTC+8) excl. public holidays.
Call us: +61 8 9266 5888
The offering information on this website applies only to future students. Current students should refer to faculty handbooks for current or past course information. View courses information disclaimer.

Curtin course code:

MG-MIDW

Last updated on:

September 28, 2020
What kind of study are you interested in?