This internet browser is outdated and does not support all features of this site. Please switch or upgrade to a
different browser
to display this site properly.
Units in first semester 2021 may be delivered online and in alternative formats whilst restrictions in relation to the COVID-19 pandemic are in place.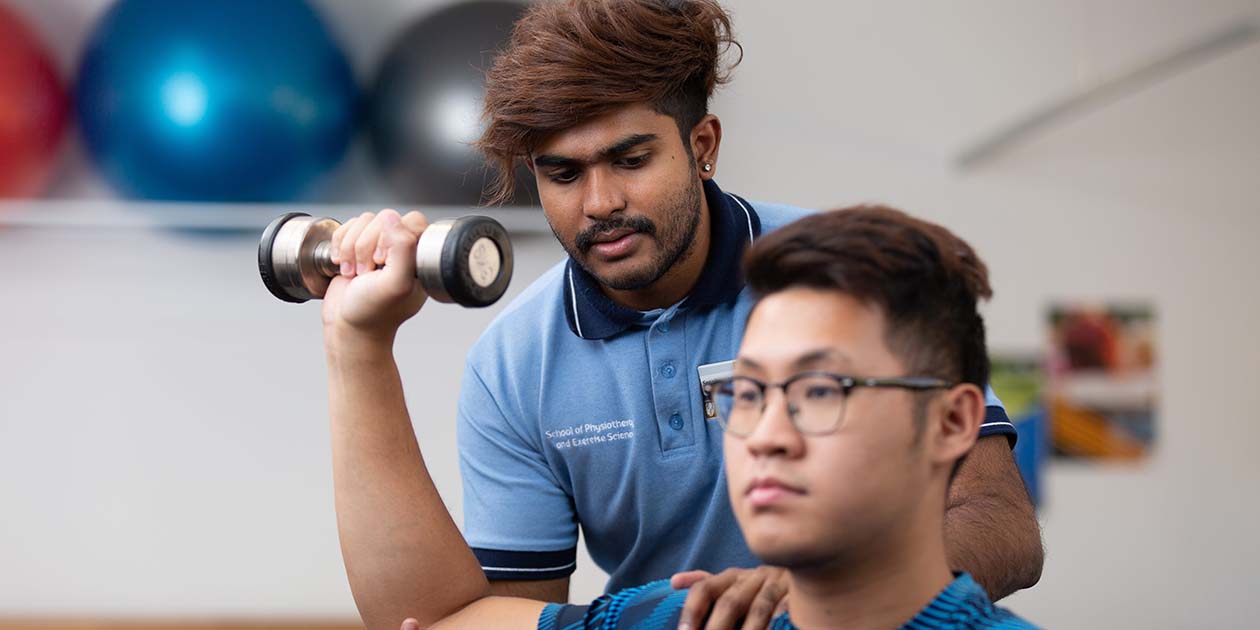 Sports Physiotherapy
Postgraduate Major
MJRP-SPPTM
Major

Sports Physiotherapy Major (M ClinPhys)
200
Outline
This course enjoys an international reputation as a dynamic degree focused on contemporary best practice and our graduates are in demand both locally and internationally.
Units in first semester 2021 may be delivered online and in alternative formats whilst restrictions in relation to the COVID-19 pandemic are in place.
Top 1 %
Curtin is ranked in the top one per cent of universities worldwide.
Academic Ranking of World Universities 2020.
Get the Curtin edge
Access to leadership programs, specialist facilities and industry placements give you a competitive edge in the job market.
Global education
You'll have access to a range of international study opportunities.
If you're a qualified physiotherapist with an interest in working with athletes and active people, the Master of Clinical Physiotherapy (Sports Physiotherapy) can help you achieve your professional goals.
This course will enable you to integrate the most up-to-date research and evidence-informed management into clinical and sporting physiotherapy practice.
Physiotherapy practice is a significant component of this course, in both the sporting and clinical environment. Experienced sports physiotherapists will supervise you through your clinical practice placements, and will work collaboratively with you to maximise your professional development.
Sports placements are in a variety of settings including elite sporting environments. Your placements will be tailored to suit your area of interest and level of experience.
How to apply
This course sits within the Graduate Certificate in Clinical Physiotherapy degree. To apply for this course, you will apply for the Graduate Certificate in Clinical Physiotherapy. In step 3 of the application process, you will be asked to confirm the stream you wish to study.
Applying as an undergraduate student is easy. For information tailored to your situation, visit our easy to follow instructions to get your application started.
Please refer to the handbook for additional course overview information.
Why study
More than 60 years' experience underpins Curtin's internationally recognised and challenging, yet very rewarding physiotherapy courses.
These courses are taught by highly qualified staff with excellent clinical and research capabilities, in world-class facilities.
Curtin prioritises a supportive learning environment for you to maximise your postgraduate goals. There is a strong emphasis on individual mentoring, supervision and feedback on skills and their application.
How this course will make you industry ready
The Sports Physiotherapy Major can help you:
gain the professional skills to improve your patient management, confidence and enjoyment of your career
develop a high-level clinical reasoning skills using the Musculoskeletal Clinical Reasoning Framework to integrate research and evidence-informed practice into clinical practice
develop the professional skills for advanced management of the active and sporting population, considering biopsychosocial factors in assessment and rehabilitation
develop manual therapy skills for advanced level assessment and treatment that are relevant to the active and sporting population
develop advanced level management planning skills including targeted exercise rehabilitation for sport-specific and active populations to improve patient outcomes and achieve successful return to sport
develop your skills to work with elite level athletes and manage criterion-based return to sport planning.
Professional recognition
The Sports Physiotherapy Major is accredited by the Australian Physiotherapy Association (APA) and is part of the APA career pathway.
Once you graduate you can apply to become an APA Titled Sports Physiotherapist as well as a Registered International Sports Physical Therapist with the International Federation of Sports Physical Therapists (IFSPT), potentially enhancing global recognition and professional mobility. Sports Physiotherapy titling is a step towards specialisation and becoming a Fellow of the Australian College of Physiotherapists.
Career information
A masters qualification in sports physiotherapy can lead to an exciting range of professional roles in elite and recreational sports teams, sporting organisations and private practice environments, opening up career opportunities in more advanced roles.
Sports physiotherapists are working in high level elite sporting organisations as medical directors, head physiotherapists, researchers and educators. It is a requirement to be a titled sports physiotherapist to work with national teams, institutes of sport and Olympic events.
What you'll learn
synthesise evidence-based knowledge to provide sports physiotherapy at an advanced level in diverse and changing settings
critically appraise evidence and information from a range of resources and apply to advanced sports physiotherapy practice
communicate effectively with clients, community and industrial partners to effectively provide sports physiotherapy management at an advanced level to individuals and groups
appraise current and emerging technologies that are relevant to advanced sports physiotherapy practice
justify personal and professional knowledge, skills, attitudes and values, and the impact of these on the provision of advanced sports physiotherapy practice
apply international standards and practice in advanced sports physiotherapy through continued development of cross-cultural awareness within a global health care perspective
demonstrate respect for individual human rights and cultural diversity in promoting health and well-being in clinical and diverse populations amongst clientele and peers
Help
Help is at hand
See our frequently asked questions or get in touch with us below.
---
Opening hours:

Mon to Fri: 8.30am – 4.30pm, except Tues: 9.30am – 4.30pm (AWST). Closed public holidays.
The offering information on this website applies only to future students. Current students should refer to faculty handbooks for current or past course information. View courses information disclaimer.

Curtin course code:

MJRP-SPPTM

Last updated on:

February 12, 2021
What kind of study are you interested in?