This internet browser is outdated and does not support all features of this site. Please switch or upgrade to a
different browser
to display this site properly.
Units in second semester 2020 may be delivered online and in alternative formats whilst restrictions in relation to the COVID-19 pandemic are in place.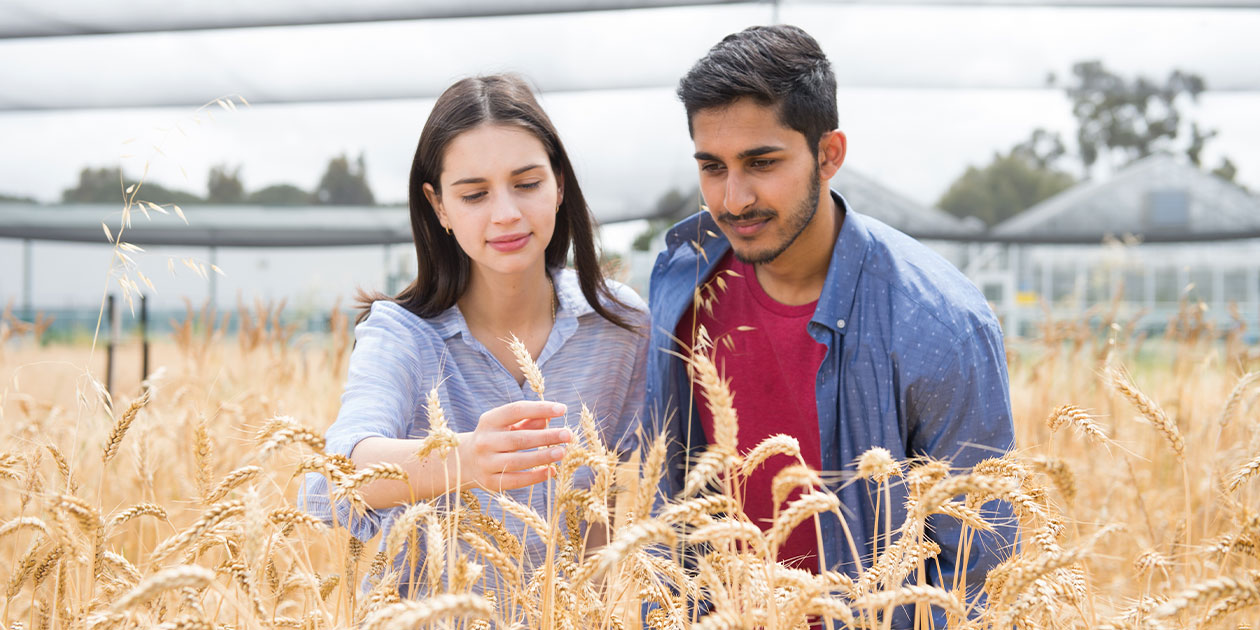 Agribusiness
Associate Degree
AD-AGRIB
Outline
Address challenges in food security and farming systems related to climate change and shifting markets.
Top 1 %
Curtin is ranked in the top one per cent of universities worldwide.
Academic Ranking of World Universities 2020.
Get the Curtin edge
Access to leadership programs, specialist facilities and industry placements give you a competitive edge in the job market.
Global education
You'll have access to a range of international study opportunities.
Curtin offers an Associate Degree in Agribusiness at Muresk Institute in Northam and Geraldton Universities Centre, with the intensive laboratory elements delivered at Muresk.
It will provide you with an understanding of agricultural production systems and the business principles associated with the production, processing, marketing and distribution of food.
You will graduate technically competent and commercially savvy, with contemporary agribusiness skills that enable you to work in areas such as agricultural production, farm management and agricultural equipment sales.
The course involves a high level of exposure to practical farm management and has been created in close collaboration with industry, to ensure it meets the needs of the Western Australian agriculture and food industry.
Study themes include:
agribusiness accounting, economics, finance, management and marketing
agricultural production systems, including animal and cropping systems
broadacre crop and pasture science
farm business management
international agricultural trade
soil and water resources.
The associate degree is also a pathway into the Bachelor of Agribusiness, providing up to 18 months credit. Pathways into other bachelor degrees are available.
See our handbook for more course information. 
Why study
The skills that you gain in this course will enable you to work in a range of agribusiness areas, including agricultural production, farm management and agricultural equipment sales.
You can study this associate degree as a pathway into the Bachelor of Agribusiness, and gain up to 18 months credit. Pathways into other bachelor degrees are also available to you.
How this course will make you industry ready
This course has been developed in close collaboration with industry, which ensures it is highly relevant to industry needs. It includes substantial exposure to practical farm management, and intensive laboratory elements delivered at Muresk Institute.
Student profile
View our student profile table to get an indication of the likely peer cohort for new students at Curtin University. This table provides data on students that commenced undergraduate study and passed the census date in the most relevant recent intake period for which data are available. It includes those admitted through all offer rounds and international students studying in Australia.
Career information
Careers
Agribusiness banking
Agronomic and livestock sales
Agronomic and livestock technical services
Business consulting
Commodity trading
Exporting
Financial management
International marketing
Professional farm management
Industries
Agriculture
Agriculture marketing and supply chain logistics
Agricultural product supply
Banking and finance
Farmer grower groups
Private farming
Further study
What you'll learn
apply principles and concepts of agribusiness systems management in a range of theoretical and practical situations
apply critical thinking and process skills to generate innovative solutions to agribusiness systems problems
use a range of technologies to locate, extract and appraise information relevant to the agribusiness discipline.
communicate effectively to clients, staff, professionals, management and industry and conform to discipline standards in presentations and publications.
consider profitability and sustainability when using new and established technologies in agribusiness related industries
acquire new knowledge and expertise in the field of agribusiness
consider the impacts of agribusiness issues from a global perspective, applying international standards within the field of agribusiness
build professional and community partnerships, and incorporate indigenous and other community perspectives in agribusiness practice
work professionally and ethically both independently and in teams, complying with appropriate legislation in the field of agribusiness
Advanced standing
At Curtin, we understand that everyone's study journey has been different.
You may have already studied some of the units (subjects) listed in your Curtin course at another educational institution, or you may have work experience that matches the degree requirements.
A successful CRL application exempts you from having to complete certain units within your course and means you could finish your degree in a shorter amount of time.
CRL is also known as recognition of prior learning, advanced standing and credit transfer.
Use the CRL search to find out how much CRL you qualify for, or contact us at:
Email: ci-enquiries@curtin.edu.au
Tel: +61 8 9266 5888
Location
For start dates, please view the academic calendar.
On Campus
Semester 1 and Semester 2
On Campus
Semester 1 and Semester 2
All endeavours are made to ensure location information for courses is up to date but please note they are subject to change.
The University reserves the right to withdraw any unit of study or program which it offers, to impose limitations on enrolment in any unit or program, and/or to vary arrangements for any program.
How to apply
Please review information on how to apply for the campus of your choice
Please note that each campus has different application deadlines. Please view our application deadlines page for further information.
Apply now
Help is at hand
See our frequently asked questions or get in touch with us below.
Opening hours: Mon–Fri: 8:00am–5:00pm (UTC+8) excl. public holidays.
Call us: +61 8 9266 5888
The offering information on this website applies only to future students. Current students should refer to faculty handbooks for current or past course information. View courses information disclaimer.

Curtin course code:

AD-AGRIB

CRICOS code:

098315D

Last updated on:

September 24, 2020
What kind of study are you interested in?