This internet browser is outdated and does not support all features of this site. Please switch or upgrade to a
different browser
to display this site properly.
If COVID-19 restrictions apply, we may need to make changes to units and/or delivery modes.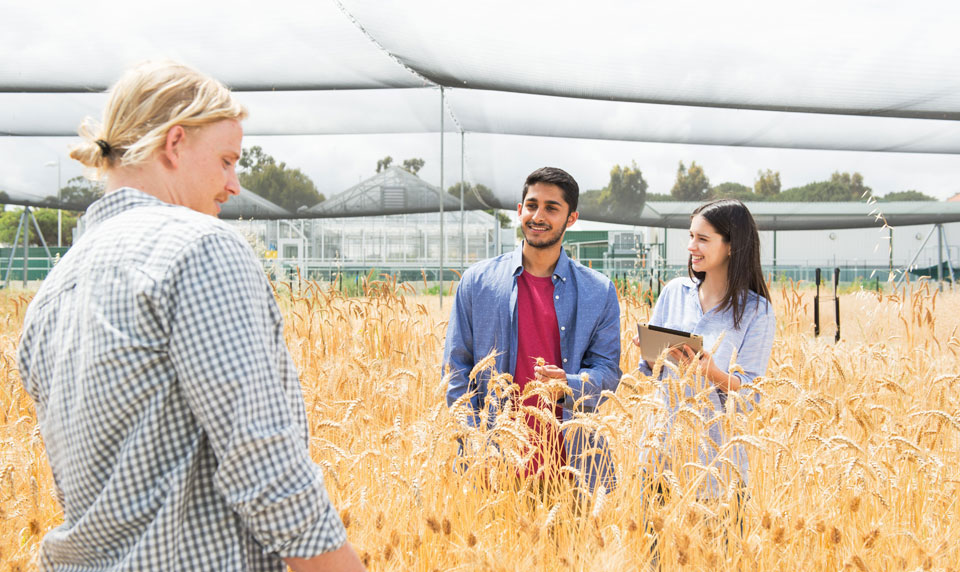 Agribusiness
Bachelor Degree
B-AGRIB
Outline
Address concerns in food security, farming systems, climate change and shifting markets.
If COVID-19 restrictions apply, we may need to make changes to units and/or delivery modes.
Cutting-edge
Graduate ready to work in environments where research and discovery abound.
Work experience
This course includes a work placement with agricultural research, production or business industries in Australia or abroad.
Top 1 %
Curtin is ranked in the top one per cent of universities worldwide.
Academic Ranking of World Universities 2020.
Agribusiness encompasses the entire food production system from paddock to plate, linking producers with consumers. It addresses global concerns such as food security and challenges to farming systems under a changing climate, shifting markets and increasing consumer awareness.
This course is the only Bachelor of Agribusiness offered in Western Australia. It will introduce you to the scientific and business principles that can be applied to agriculture.
You will gain scientific knowledge to develop an understanding of production systems and to apply problem-solving techniques to management strategies. You'll be introduced to technologies used in soil, crop and livestock management systems.
You'll engage in research-led activities, problem-solving and self-directed experiments using our field-trial site and glasshouse facilities.
You'll work individually and as an integral part of a team, to develop your agribusiness risk and farm management skills. You'll also have opportunities to develop links with industry experts and undertake field trips to research centres, agronomic field sites and farms.
This course includes a work placement to ensure you graduate with the science, technology and business skills needed for a thriving career in agribusiness. The placement can be with agriculture research, production or business industries locally or globally.
See our handbook for more course information.
Why study
There is a strong demand for skilled professionals from 'paddock to plate', with job opportunities now exceeding the number of available graduates.
You'll be equipped to help address challenges in domestic and global food and fibre production. Future productivity improvements rely on skilled graduates undertaking high-impact research and who have the ability to adopt new technologies.
Curtin provides a unique combination of agricultural science and agribusiness with options in spatial science, data analytics, supply chain management and business management.
You'll have the opportunity to link to world-class research programs, including the GRDC-funded Centre for Crop and Disease Management, post-harvest horticulture, aquaculture management and rehabilitation of degraded land.
How this course will make you industry ready
During the course you can participate in work experience and field tours that enable you to develop networks across the agricultural sectors, engaging with people working in agricultural research, production and management in government and industry.
You'll interact with agribusiness entities such as CSIRO, state government departments of agriculture, agribusiness and financial advisors, agronomy advisors, farmers, consultants, research-trial operators, grain trading and marketing, and Curtin's GRDC Centre for Crop and Disease Management.
Student profile
View our student profile table to get an indication of the likely peer cohort for new students at Curtin University. This table provides data on students that commenced undergraduate study and passed the census date in the most relevant recent intake period for which data are available. It includes those admitted through all offer rounds and international students studying in Australia.
Professional recognition
Graduates are eligible for membership of the Australian Institute of Agricultural Science and Technology.
Career information
Careers
Agricultural and resource economist
Agricultural scientist
Agronomist
Biotechnologist
Farm management and farm consultant
Grain trader
Research trials manager
Soil scientist.
Industries
Agriculture
Agriculture marketing and supply chain logistics
Agricultural product supply
Agronomy services
Banking and finance
Consultancy
Farmer grower groups
Farming
Research.
Further study
What you'll learn
apply agribusiness systems management principles and concepts in a range of theoretical and practical situations through research and practical application
employ logical and rational process, think creatively and reflectively to generate innovative solutions to complex agribusiness systems problems
access, evaluate and synthesise relevant information from a range of sources appropriate to the agribusiness and agricultural science disciplines
communicate effectively by demonstrating the capacity to listen and respond (using both written and spoken language) to clients, staff, professionals, management and industry and conform to discipline standards in presentations and publications
consider profitability, sustainability and impact of the environment, health and society when using new and established technologies in agribusiness related industries
continue to acquire new knowledge and expertise in the field of agribusiness and agricultural science
describe and evaluate the impacts of agribusiness in a global system; apply international standards and practices within the field of agribusiness
value professional and community partnerships through integrating socio cultural contexts and ethics with in agribusiness practice
work professionally and ethically both independently and in teams, complying with appropriate legislation in the field of agribusiness and agricultural science
Help
Help is at hand
See our frequently asked questions or get in touch with us below.
---
Opening hours:

Mon to Fri: 8.30am – 4.30pm, except Tues: 9.30am – 4.30pm (AWST). Closed public holidays.
The offering information on this website applies only to future students. Current students should refer to faculty handbooks for current or past course information. View courses information disclaimer.

Curtin course code:

B-AGRIB

CRICOS code:

029345C

Last updated on:

January 24, 2022
Which statement best describes you?