This internet browser is outdated and does not support all features of this site. Please switch or upgrade to a
different browser
to display this site properly.
Units in second semester 2020 may be delivered online and in alternative formats whilst restrictions in relation to the COVID-19 pandemic are in place.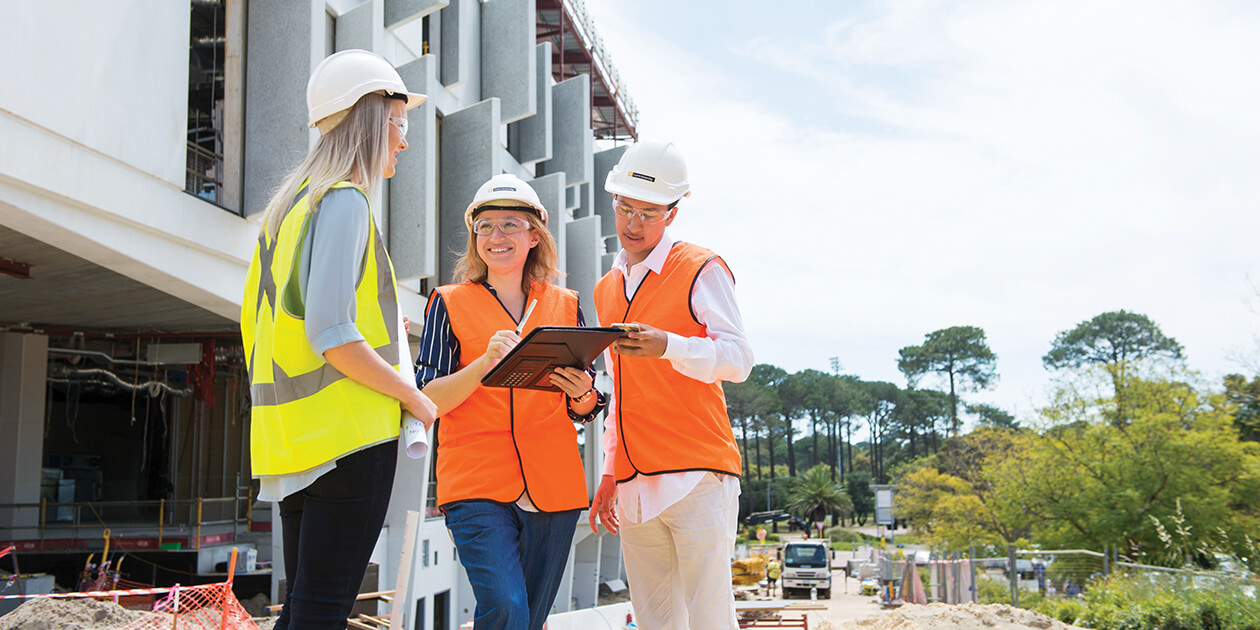 Construction Management
Bachelors Degree Pass/Honours
B-CONM
Outline
Prepare for a professional career in building and construction with this management-oriented course.
Jordan Correia
The construction management course provides many career options – quantity surveying, build-side, client-side, contractor-side, estimating … there's so many roles. Getting practical experience in the industry will help you understand the essence of building and what it is you want to get out of it.
Transferable skills
Humanities courses teach transferable skills for international careers.
Get the Curtin edge
Access to leadership programs, specialist facilities and industry placements give you a competitive edge in the job market.
Industry links
This course was designed in collaboration with the AIB; Master Builders WA; Broad Construction; and Laing O'Rouke.
Construction managers work across a range of interrelated disciplines on residential, commercial and infrastructure projects.
This is a management-oriented degree that will prepare you for professional roles in the building and infrastructure construction industries.
The course is designed in collaboration with Curtin's industry partners, including the Australian Institute of Building, the Masters Builders Association of Western Australia, Broad Construction and Laing O'Rourke. You will learn from dedicated professionals with  construction-related qualifications and experience.
Learning areas include:
construction technologies
quantity measurement
project planning and management
strategy and financial management
contract administration
construction law
cost estimating, planning and management
communication skills.
You will have the opportunity to visit construction sites in Perth and participate in international study trips.
Throughout your course you will complete projects and assignments related to the construction industry, and in your fourth year you may complete a supervised research project in the honours stream.
You are required to undertake 80 days' work experience prior to graduating. 
Please refer to the handbook for additional course overview information.
How this course will make you industry ready
You will have the opportunity to participate in work experience or supervised site visits, giving you real-world exposure.
The course is designed in collaboration with construction industry professionals, ensuring you learn the most up-to-date skills and knowledge in construction management.
You'll be required to complete a supervised research project in fourth year.
You will also complete projects and assignments related to the construction industry throughout your course.
Student profile
View our student profile table to get an indication of the likely peer cohort for new students at Curtin University. This table provides data on students that commenced undergraduate study and passed the census date in the most relevant recent intake period for which data are available. It includes those admitted through all offer rounds and international students studying in Australia.
Professional recognition
Membership is available with Australian Institute of Building; Australian Institute of Building Surveyors*; Board of Quantity Surveyors, Malaysia*; Chartered Institute of Building; Australian Institute of Quantity Surveyors and Royal Institution of Chartered Surveyors.
*Conditional registration
Career information
Careers
Construction manager
Contract administrator
Project manager
Building technician
Property developer
Building surveyor
Building contractor
Estimator
Quantity surveyor
Industries
Building and construction
Local government
Infrastructure
Mining
Oil and gas
What you'll learn
apply key concepts of Construction Management and Quantity Surveying, apply Construction Management and Quantity Surveying knowledge and extend this application through discipline based research
think creatively and innovatively in a building construction context to generate solutions to complex construction problems
access information from a range of sources using appropriate technologies and use decision making and problem solving knowledge to generate appropriate outcomes
communicate appropriately to a broad array of construction stakeholders and the wider community audience
recognise and apply the appropriate technologies to building construction processes and society
develop and manage learning strategies to advance themselves in a building construction leaning community
understanding the international perspective of construction management and quantity surveying and apply international practices
appreciate the cultural diversity of the wider community as it impacts on building construction, recognise indigenous rights with the regard to building construction
manage construction processes in an effective, ethical and professional way, recognise and apply environmentally responsible practices in a construction context
Help is at hand
See our frequently asked questions or get in touch with us below.
Opening hours: Mon–Fri: 8:00am–5:00pm (UTC+8) excl. public holidays.
Call us: +61 8 9266 5888
What kind of study are you interested in?