This internet browser is outdated and does not support all features of this site. Please switch or upgrade to a
different browser
to display this site properly.
If COVID-19 restrictions apply, we may need to make changes to units and/or delivery modes.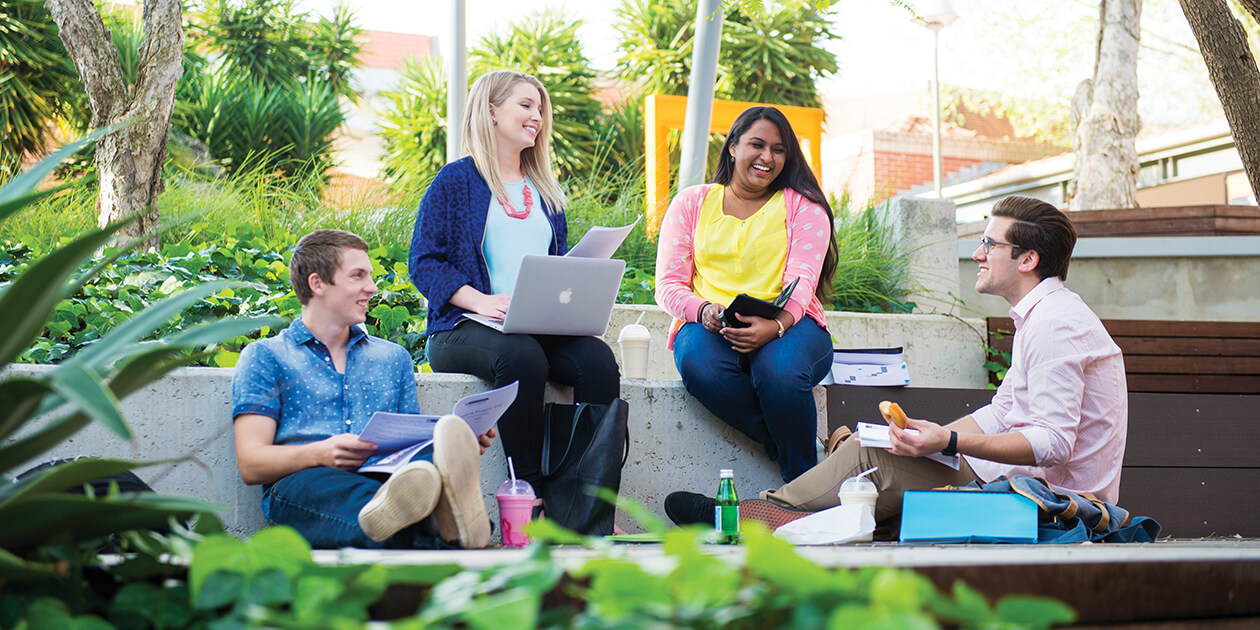 Bachelor of Arts
Bachelor Degree
B-ARTS
Outline
Ideal for imaginative individuals, these courses develop your creativity and critical thinking.
If COVID-19 restrictions apply, we may need to make changes to units and/or delivery modes.
This offering version is phasing out and no longer taking applications. You may be able to apply for a later version.
Emily Cousins
I'm doing a double degree in a Bachelor of Commerce and a Bachelor of Arts, majoring in public relations and journalism and loving every minute. It's amazing how the communications industry is constantly changing and evolving – it keeps life exciting! I'd like to work for a major fashion magazine, or coordinate events like the VMAs or do publicity for celebs – as long as I'm living in different cities around the world and getting paid to write and create, I know I'll be living the dream.
Transferable skills
Humanities courses teach transferable skills for international careers.
Top 1%
Curtin is ranked in the top one per cent of universities worldwide
(Academic Ranking of World Universities 2019)
Broad career options
These courses are flexible, so you can follow your interests and create a unique, tailored program.
The Bachelor of Arts is a flexible degree where you can tailor your studies to your creative passions and career goals.
Our majors combine theoretical study and practical, industry-relevant content, so you graduate confident and ready to launch your career.
Build your degree
You can choose to study a single major or a double major. A single major provides more flexibility in your degree structure, while a double major offers you the benefits of studying two complementary disciplines in equal amounts.
This degree comprises 600 credits worth of units. You'll study 300 credits in the major of your choice (STEP A) and 300 credits through one of the four options (STEP B).
STEP A: CHOOSE YOUR MAJOR
Specialise in an area that inspires you:
STEP B: COMPLETE YOUR DEGREE STRUCTURE
This step usually happens after you accept Curtin's offer for your chosen major. Each of the options outlined below are subject to availability.
Option 1: a second major
With this option you benefit from studying two disciplines in equal depth and graduating with a double major. You may choose a secondary major from the Bachelor of Arts, or from the Creative Arts or Commerce majors below:
Option 2: two minors
You may study any two minors from any of Curtin's four faculties to complement your major.
Option 3: a minor and electives
You may choose to study one minor to gain expertise in a second field, and then choose four elective units to complete the structure of your degree.
Option 4: electives
You may choose to study eight elective units from any of Curtin's four faculties, provided you meet the unit prerequisites. 
Please refer to the handbook for additional course overview information.
Why study
Our degrees are forward-thinking and practical, offering you comprehensive grounding in theory and a range of skills.
If you choose a single major, you can tailor your program to follow your own interests, drawing upon a variety of disciplines.
Some majors allow you to enhance your learning with a secondary major from within business.
Student profile
View our student profile table to get an indication of the likely peer cohort for new students at Curtin University. This table provides data on students that commenced undergraduate study and passed the census date in the most relevant recent intake period for which data are available. It includes those admitted through all offer rounds and international students studying in Australia.
Professional recognition
Some majors are professionally recognised by associated industry bodies.
What you'll learn
apply broad discipline knowledge in a range of theoretical and practical situations through research and practical application
think creatively and critically to generate innovative solutions to complex social, political and artistic problems
access, evaluate and synthesise relevant information from a range of sources
communicate effectively in professional and public contexts
apply technologies appropriately
demonstrate responsibility and lifelong learning skills by applying critical reflection and being proactive
describe global and cultural issues and their impact
demonstrate respect for human rights, cultural diversity and the particular rights of Indigenous Australians
work ethically and professionally, both within a team and independently
Admission criteria
Curtin requires all applicants to demonstrate proficiency in English. Specific English requirements for this course are outlined in the IELTS table below.
IELTS Academic (International English Language Testing System)
Writing
6.0
Speaking
6.0
Reading
6.0
Listening
6.0
Overall band score
6.5
You may demonstrate English proficiency using the following tests and qualifications.
Advanced standing
At Curtin, we understand that everyone's study journey has been different.
You may have already studied some of the units (subjects) listed in your Curtin course, or you may have work experience that matches the degree requirements.
If this applies to you, you can apply for credit for recognised learning (CRL), which means your previous study is recognised and matched against a similar unit in your intended Curtin course.
A successful CRL application exempts you from having to complete certain units within your course and means you could finish your degree in a shorter amount of time.
CRL is also known as recognition of prior learning, advanced standing and credit transfer.
Use the CRL search to find out how much CRL you qualify for, or contact us at:
Email: crl@curtin.edu.au
Tel: 1300 222 888
Help
Help is at hand
See our frequently asked questions or get in touch with us below.
---
Opening hours:

Mon to Fri: 8.30am – 4.30pm, except Tues: 9.30am – 4.30pm (AWST). Closed public holidays.
The offering information on this website applies only to future students. Current students should refer to faculty handbooks for current or past course information. View courses information disclaimer.

Curtin course code:

B-ARTS

CRICOS code:

068750M

Last updated on:

November 27, 2021
What kind of study are you interested in?