This internet browser is outdated and does not support all features of this site. Please switch or upgrade to a
different browser
to display this site properly.
Units in second semester 2020 may be delivered online and in alternative formats whilst restrictions in relation to the COVID-19 pandemic are in place.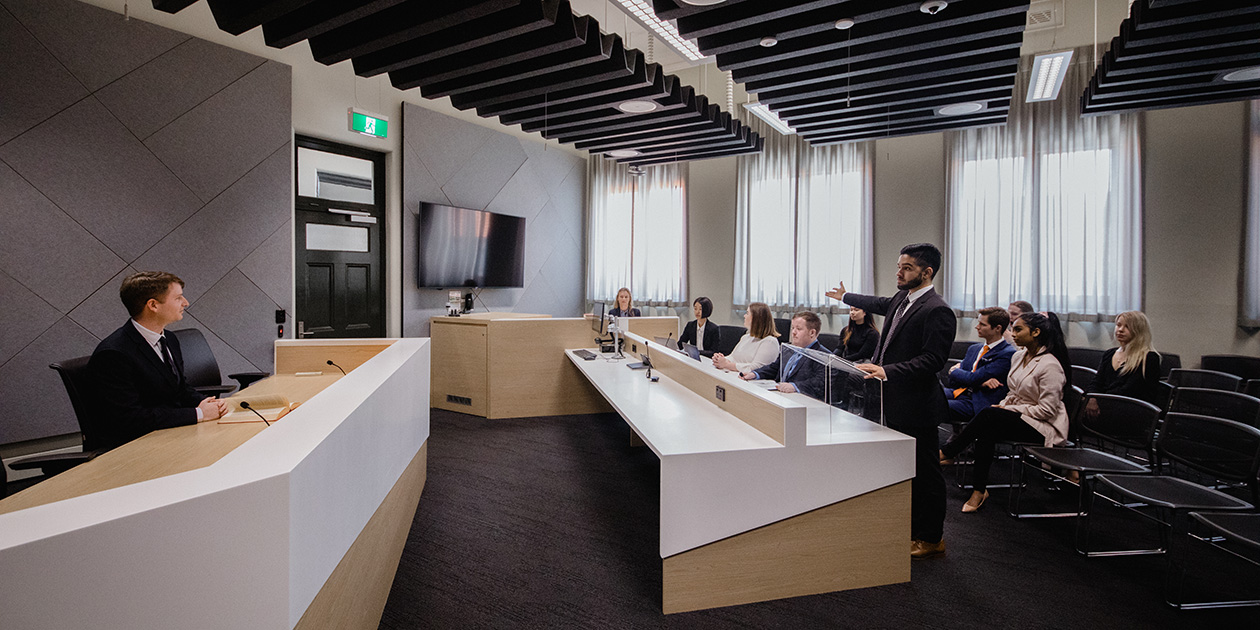 Laws
Bachelor Degree
B-LAWS
Outline
Set the bar high and become a lawyer. An undergraduate degree in law is the first qualification you need.
Sita Samtani
I'm going to be admitted as a lawyer while I'm 21 year's old. You can't do that with any other WA university because Curtin is the only one that offers a three-year law degree with trimester study.
Get the Curtin edge
Access to leadership programs, specialist facilities and industry placements give you a competitive edge in the job market.
Top 1 %
Curtin is ranked in the top one per cent of universities worldwide (Academic Ranking of World Universities 2019).
Give legal advice, perform legal work and appear in court as a lawyer. An undergraduate degree in law is the first qualification you need to practise as a lawyer in Australia.
Curtin's Law degree offers a foundation in essential areas of legal knowledge. You'll develop core skills essential to effective legal practice and gain a high level of commercial awareness. You'll also get to undertake optional units focusing on topics such as forensic advocacy, family law, human rights law, native title law and policy, or European Union law. And with over twenty-five optional units to choose from, you can tailor your degree to suit your career interests.
You will greatly benefit from the relationships you form with members of the profession and the proximity of the Supreme Court, the District Court and the Federal Court, which are located close to the Curtin Law School in Perth city. 
The course is delivered in a combination of semesters and trimesters and can be completed in three years. It is equivalent to a four-year, full-time undergraduate degree.
You'll complete your first year at Curtin Perth in a semester format while your second and third years will be studied in trimesters at the law school's location at Curtin Murray Street in the Perth city centre. If you choose to study four units each study period, you can graduate in only three calendar years.
Please refer to the handbook for additional course overview information.
Why study
You could elect to undertake a legal internship in which you can gain experience working under the supervision of an employer in a professional legal environment. The internship unit puts your law studies into context and provides opportunities to develop and apply your legal practice skills, critically analyse and reflect on the law in practice, and gain an appreciation of legal ethics.
In your third year, you may enrol in the Law Clinic unit to put your legal skills into practice through professional activities. Under the supervision of experienced legal practitioners, you will meet and prepare advice for eligible small businesses.
You can participate in simulated court proceedings at our moot court facility. This will hone your skills in public speaking and debating, and enhance your understanding of how a real court environment operates.
You could study at Ghent University in Belgium as part of our Ghent summer law program.
You can choose optional units that focus on high-demand areas for law graduates.
Student profile
View our student profile table to get an indication of the likely peer cohort for new students at Curtin University. This table provides data on students that commenced undergraduate study and passed the census date in the most relevant recent intake period for which data are available. It includes those admitted through all offer rounds and international students studying in Australia.
Professional recognition
Career information
Careers
Criminal lawyer
Employment lawyer
Family lawyer
Human rights lawyer
In-house counsel
Mining lawyer
Solicitor
Industries
Law
Banking and finance
Resources
Courts and tribunals
Government
Private legal practice
What you'll learn
apply knowledge of the Australian legal system, statutory rules and case law principles in both the fundamental areas of legal knowledge and a range of elective fields to the resolution of legal problems
critically and creatively analyse legal problems to articulate the issues involved and apply legal reasoning to make a considered choice between competing solutions
identify, access, assess and synthesise relevant information from primary legal sources such as cases and legislation and secondary sources such as journal articles and commentaries (including electronic versions of these sources) and gather relevant oral and documentary evidence
Help is at hand
See our frequently asked questions or get in touch with us below.
Opening hours: Mon–Fri: 8:00am–5:00pm (UTC+8) excl. public holidays.
Call us: +61 8 9266 5888
The offering information on this website applies only to future students. Current students should refer to faculty handbooks for current or past course information. View courses information disclaimer.

Curtin course code:

B-LAWS

CRICOS code:

077962B

Last updated on:

August 11, 2020
What kind of study are you interested in?