This internet browser is outdated and does not support all features of this site. Please switch or upgrade to a
different browser
to display this site properly.
Units in first semester 2021 may be delivered online and in alternative formats whilst restrictions in relation to the COVID-19 pandemic are in place.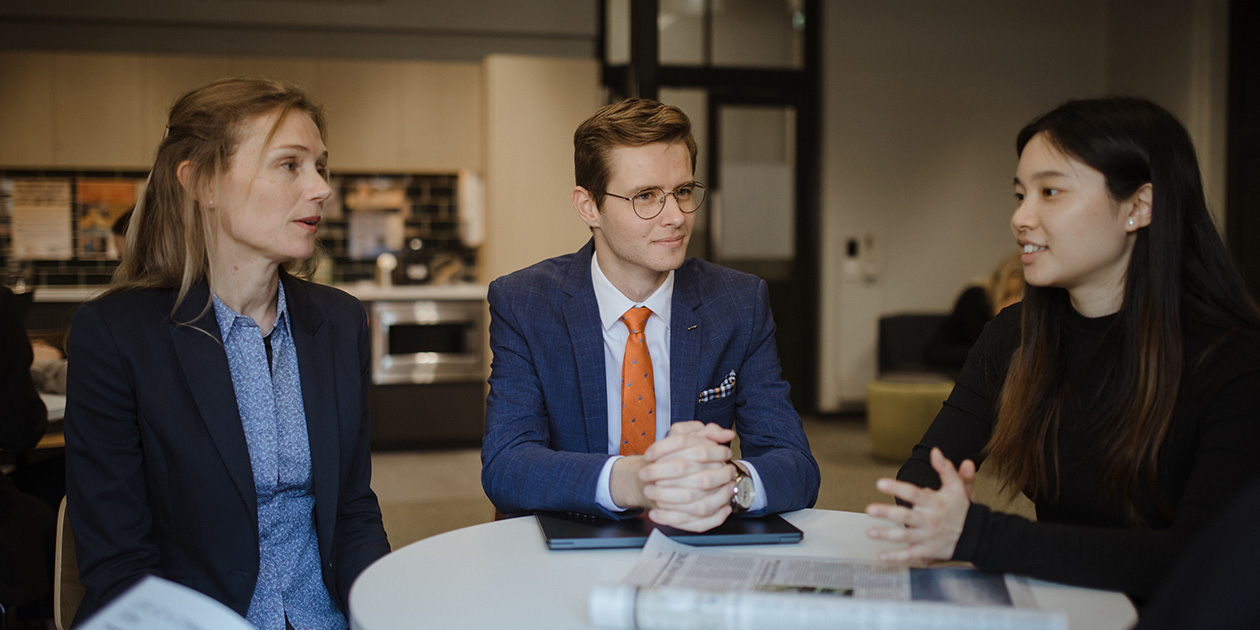 Law and Psychology
Bachelor Double Degree
BB-LAWPSY
Outline
Units in first semester 2021 may be delivered online and in alternative formats whilst restrictions in relation to the COVID-19 pandemic are in place.
Highly ranked course
Curtin ranks in the top 10 nationally for Clinical, Pre-Clinical and Health Subjects.
Top 1 %
Curtin is ranked in the top one per cent of universities worldwide.
Academic Ranking of World Universities 2020.
Get the Curtin edge
Access to leadership programs, specialist facilities and industry placements give you a competitive edge in the job market.
This double degree is ideal if you want to combine a career in law with a deeper understanding of human behaviour, or want to pursue a career in psychology in areas such as the criminal and justice systems.
The Bachelor of Laws degree is a qualification approved by the Legal Practice Board of Western Australia. It will equip you with legal knowledge and core skills that are essential to effective legal practice.
It will also give you a strong awareness of commercial law and opportunities to connect with industry.
The Bachelor of Science (Psychology) will teach you about emotion, behaviour, cognition, interpersonal relationships, perception and personality. You will learn how to examine, explain and predict what people do as individuals and in groups.
Please refer to the handbook for additional course overview information.
Why study
Law and Psychology is a natural combination that reflects the day-to-day challenges of the legal professional and the growing role of psychology in numerous legal, forensic, and criminal processes.
At Curtin University, working practitioners bring degree programs to life. You'll be motivated by the real-life stories and industry exposure. In the Law school, high-quality teaching staff aim to give you first-hand insight and knowledge of the legal profession. In the School of Psychology & Speech Pathology, the undergraduate teaching team includes many registered psychologists. Students will develop their knowledge of human behaviour from a scientist-practitioner model perspective from teaching staff who are active researchers and psychologists.
Student profile
View our student profile table to get an indication of the likely peer cohort for new students at Curtin University. This table provides data on students that commenced undergraduate study and passed the census date in the most relevant recent intake period for which data are available. It includes those admitted through all offer rounds and international students studying in Australia.
Professional recognition
An undergraduate degree in law is the first qualification you need if you want to practise as a lawyer in Australia. Further practical legal training must be undertaken after completing the Bachelor of Laws to be eligible for admission as a barrister and solicitor in Western Australia.
To be eligible for admission as a lawyer in Western Australia you must either undertake the Practical Legal Training course or complete 12 months articles of clerkship. For further details about admission as a lawyer in Australia, refer to the Legal Practice Board of Western Australia website.
The Bachelor of Science (Psychology) degree is recognised by the Australian Psychology Accreditation Council (APAC) as meeting the first three years of study in psychology. A further year in psychology is necessary to apply for associate membership of the Australian Psychological Society (APS) or to apply for post graduate training (pathway to registration) in psychology.
Career information
Lawyer (further study required)
Policy Adviser
Social Researcher
Psychologist (further study required)
Support Worker
Youth Worker
Program Officer
Mental Health Advocate
What you'll learn
apply knowledge of the Australian legal system, statutory rules and case law principles in both the fundamental areas of legal knowledge and a range of elective fields to the resolution of legal problems; apply psychological theory to evidence based practice and extend the boundaries of knowledge through research; discriminate between valid discipline knowledge and questionable esoteric theory and practice
critically and creatively analyse legal problems to articulate the issues involved and apply legal reasoning to make a considered choice between competing solutions; apply logical and rational processes to critically analyse problems and generate innovative solutions to psychological questions
identify, access, assess and synthesise relevant information from primary legal sources such as cases and legislation and secondary sources such as journal articles and commentaries (including electronic versions of these sources) and gather relevant oral and documentary evidence; access, evaluate and synthesise relevant information and evidence from a range of sources applicable to psychology
communicate the outcomes of legal research and analysis effectively, appropriately and persuasively to colleagues, to clients and to other professionals and the broader community; communicate effectively with individuals, groups and communities
use appropriate electronic legal databases for research purposes and be able to communicate effectively in electronic forms; select and effectively use appropriate technologies relevant to psychological research and practice
maintain intellectual curiosity as to justice and its practical application in the legal system, be able to identify areas where their legal knowledge and skills require further development, and to critically reflect on their own performance as legal professionals, making use of feedback as appropriate; demonstrate ability for self directed learning and reflective practice
articulate the similarities and differences between local and other jurisdictions, including interstate and overseas ones, and be aware of the principles of public and private international law; demonstrate knowledge and understanding of international perspectives in psychology
articulate distinct concepts of law, justice and human rights, with an awareness of different legal traditions and cultures, particularly indigenous cultures; identify how and where indigenous persons and other identifiable social groups are differentially impacted by the legal system; demonstrate understanding and respect for human rights and cultural diversity
work independently, as well as collaboratively, with a developing sense of the ethical issues that arise in legal practice and how these may be resolved; independently and collaboratively apply professional skills in an ethical manner
Help
Help is at hand
See our frequently asked questions or get in touch with us below.
---
Opening hours:

Mon–Fri: 8:00am–5:00pm (UTC+8) excl. public holidays.
The offering information on this website applies only to future students. Current students should refer to faculty handbooks for current or past course information. View courses information disclaimer.

Curtin course code:

BB-LAWPSY

CRICOS code:

096308G

Last updated on:

November 25, 2020
What kind of study are you interested in?