This internet browser is outdated and does not support all features of this site. Please switch or upgrade to a
different browser
to display this site properly.
Units in second semester 2021 may be delivered online and in alternative formats whilst restrictions in relation to the COVID-19 pandemic are in place.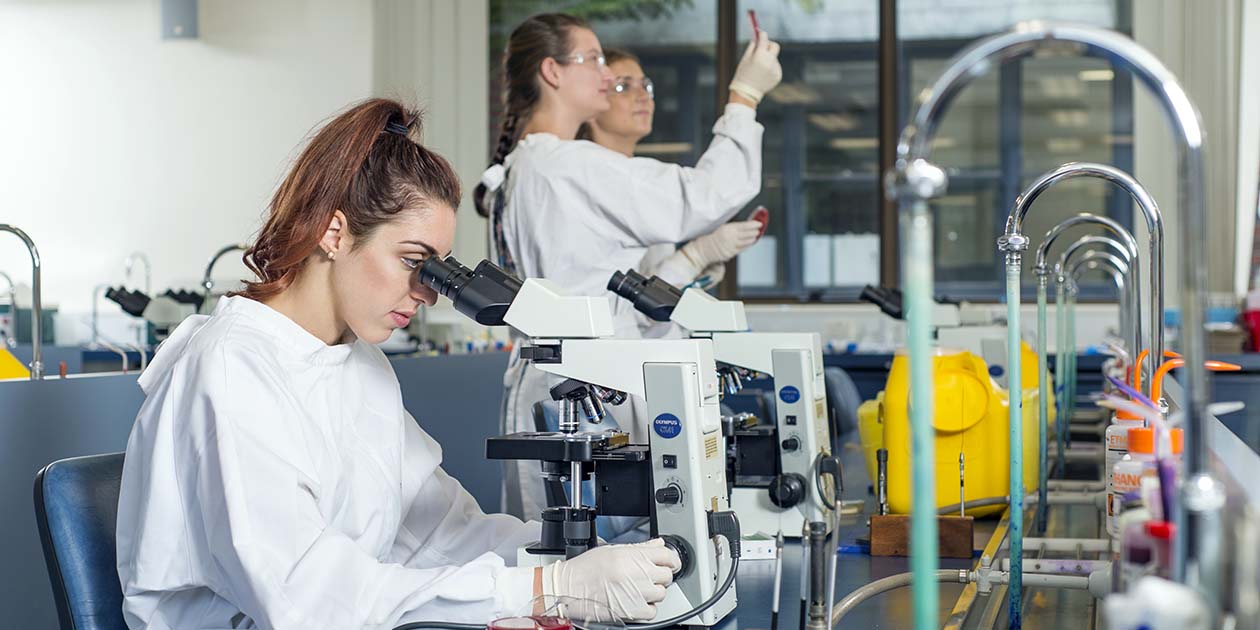 Laboratory Medicine
Bachelor Degree
B-LABMED
Outline
An exciting course for aspiring professional medical scientists, focusing on pathology and diagnosing disease.
Units in second semester 2021 may be delivered online and in alternative formats whilst restrictions in relation to the COVID-19 pandemic are in place.
This offering version is phasing out and no longer taking applications. You may be able to apply for a later version.
Work experience
Includes a 28-week professional placement in a diagnostic pathology laboratory.
Top 1 %
Curtin is ranked in the top one per cent of universities worldwide.
Academic Ranking of World Universities 2020.
Laboratory medicine teaches you about pathology (the origin, nature and course of disease) and the diagnosis of disease.
Your first year is interprofessional and taken with other health sciences students. Your second year develops your knowledge of the cellular and tissue aspects of pathology, and the individual disciplines of laboratory medicine.
In your third and fourth years, you'll gain extensive field experience and focus on three of the following major disciplines: clinical biochemistry, diagnostic cytology, haematology and transfusion science, histopathology, immunology and medical microbiology.
You'll learn in Curtin's new PC2 laboratory facility, where you can analyse clinical samples, process pathogenic microorganisms in biosafety cabinets and report results in the same way as a real pathology laboratory.
You'll also develop your practical skills when you undertake a 28-week professional placement in a diagnostic pathology laboratory.
Please refer to the handbook for additional course overview information. 
Why study
Choose from six major areas of specialisation.
Learn in high-quality laboratories and facilities.
Accredited by the Australian Institute of Medical Scientists.
Professional placement in a diagnostic pathology laboratory.
Student profile
View our student profile table to get an indication of the likely peer cohort for new students at Curtin University. This table provides data on students that commenced undergraduate study and passed the census date in the most relevant recent intake period for which data are available. It includes those admitted through all offer rounds and international students studying in Australia.
Professional recognition
Professionally recognised by the Australian Institute of Medical Scientists.
Career information
Careers
Industries
Community health
Education
Health technology
Manufacturing
Private and public hospitals
Research centres and laboratories.
What you'll learn
apply general and discipline specified knowledge to the performance of laboratory medicine
the application of knowledge critically and ethically in the laboratory medicine setting
obtain and critically appraise information from a range of resources applicable to the practice of medical science
communicate effectively specialised knowledge relevant to laboratory medicine
the selection and effective use of appropriate technologies to generate valid data
recognition of the need for on-going learning in the Medical Science profession
an awareness of global differences in disease patterns and diagnostic medicine
recognition of cultural difference and its impact on Medical Science
recognition of the necessity for probity and ethical behaviour and a professional approach to medical science
Admission criteria
Curtin requires all applicants to demonstrate proficiency in English. Specific English requirements for this course are outlined in the IELTS table below.
IELTS Academic (International English Language Testing System)
Writing
6.0
Speaking
6.0
Reading
6.0
Listening
6.0
Overall band score
6.5
You may demonstrate English proficiency using the following tests and qualifications.
Other requirements and notes for this course
In addition to the course-specific admission criteria listed above, please read our general admission criteria. Our general admission criteria apply to all courses at Curtin University.
Essential requirements for admission (including fieldwork requirements)
Many of our courses require students to comply with additional essential requirements. Failure to comply with any of the essential requirements may potentially prevent the successful completion of the course and/or achieving professional registration.
Fieldwork requirements during the course
Please refer to the following statements on the fieldwork component of this course:
Advanced standing
At Curtin, we understand that everyone's study journey has been different.
You may have already studied some of the units (subjects) listed in your Curtin course, or you may have work experience that matches the degree requirements.
If this applies to you, you can apply for credit for recognised learning (CRL), which means your previous study is recognised and matched against a similar unit in your intended Curtin course.
A successful CRL application exempts you from having to complete certain units within your course and means you could finish your degree in a shorter amount of time.
CRL is also known as recognition of prior learning, advanced standing and credit transfer.
Use the CRL search to find out how much CRL you qualify for, or contact us at:
Email: crl@curtin.edu.au
Tel: 1300 222 888
Help
Help is at hand
See our frequently asked questions or get in touch with us below.
---
Opening hours:

Mon to Fri: 8.30am – 4.30pm, except Tues: 9.30am – 4.30pm (AWST). Closed public holidays.
The offering information on this website applies only to future students. Current students should refer to faculty handbooks for current or past course information. View courses information disclaimer.

Curtin course code:

B-LABMED

CRICOS code:

064464E

Last updated on:

August 6, 2021
What kind of study are you interested in?