This internet browser is outdated and does not support all features of this site. Please switch or upgrade to a
different browser
to display this site properly.
If COVID-19 restrictions apply, we may need to make changes to units and/or delivery modes.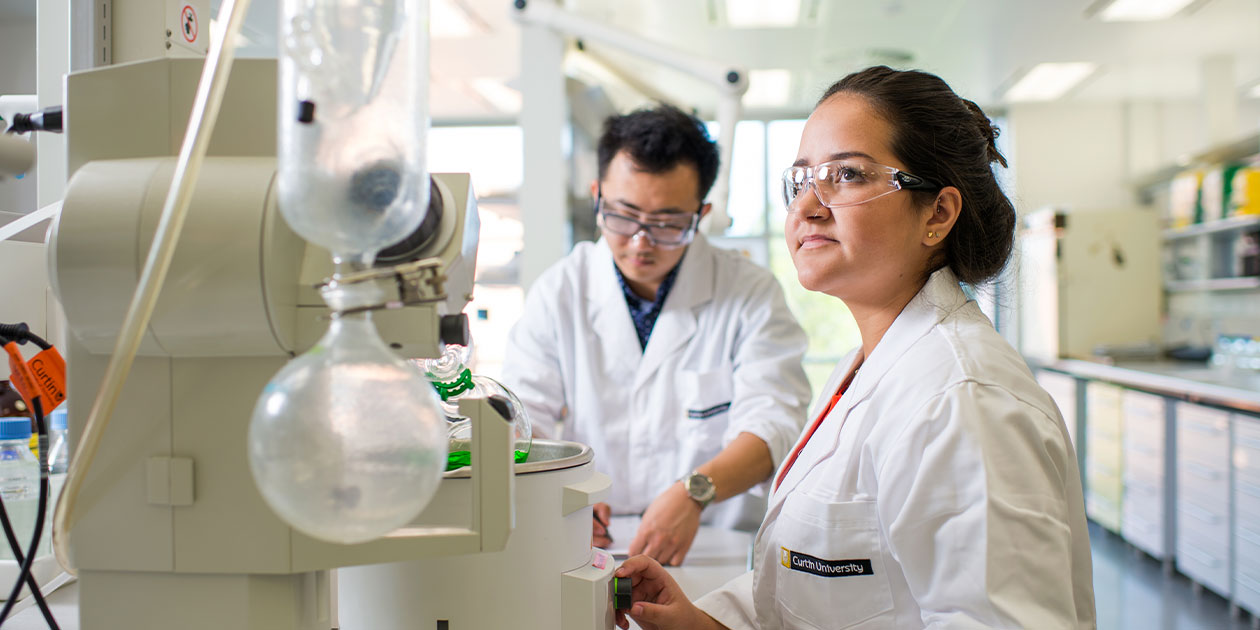 Chemistry
Undergraduate Major
MJRU-CHEMI
Major

Chemistry Major (BSc Science)

Admission criteria

Guaranteed ATAR 70
600
Outline
Experience science at a molecular level, where major advances are made in medicine, IT, nanotechnology and materials.
If COVID-19 restrictions apply, we may need to make changes to units and/or delivery modes.
Cutting-edge
Graduate ready to work in environments where research and discovery abound.
Highly ranked course
Curtin is Western Australia's top-ranked university in Chemistry (QS World University Rankings by Subject 2022).
Top 1 %
Curtin is ranked in the top one per cent of universities worldwide.
Academic Ranking of World Universities 2021.
Chemistry is called 'the central science' because it connects other sciences such as physics, biology and geology. Chemistry is science at a molecular level, where major advances are continually made in medicine, IT, nanotechnology, new materials and other areas.
In this course you'll gain the knowledge to become a skilled chemist. You'll study theoretical and practical aspects of chemistry, including synthesis, analysis and spectroscopy. Much of your learning will be at the advanced laboratories of Curtin's Resources and Chemistry Precinct.
You'll also learn the problem-solving, teamwork and critical-analysis skills that can open opportunities for diverse science careers.
You can select from a large range of specialisations to study. The specialisations described below are those that best complement this course.
Analytical and Forensic Chemistry
In this specialisation you'll learn how to use sophisticated scientific instruments to solve complex analytical problems. You'll also develop effective problem-solving and decision-making skills within the ethical and professional context of analytical and forensic science.
Chemistry of Sustainable Development

This specialisation emphasises chemistry as an integral science in the development of sustainability solutions. You'll study a range of topics – including water, energy, industry and the environment – and you'll develop important problem-solving and decision-making skills.
Environmental Biology
In this specialisation you will gain the knowledge related to environmental functions and processes and the skills required to address a range of environmental issues. These issues include land degradation and challenges related to urban and regional development, oil and gas extraction and processing, mining, pollution and biodiversity loss.
Environmental Geochemistry
In this specialisation you will study the chemical make-up of the Earth and other planets. You'll focus on chemical reactions and processes that show how various soils and rocks are created.
Materials Science
This specialisation looks for connections between the underlying structure of a material, its properties and applications, and how processing changes the material.
You will study materials including metals, semiconductors, glasses, ceramics and polymers. You'll also learn about analytical instruments and radiation that materials scientists use to investigate the microstructure of samples.
This major sits within the Bachelor of Science (Science) degree. It can also be studied as part of the Bachelor of Advanced Science course.
Double degrees
You can study a Bachelor of Science (Chemistry) with either a Bachelor of Arts, Bachelor of Commerce or Bachelor of Engineering (Chemical Engineering).
See our handbook for more course information.
Why study
Curtin is Western Australia's top-ranked university in Chemistry (QS World University Rankings by Subject 2021).
The Chemistry and Resources Precinct, supported by ChemCentre and BHP, provides exceptional facilities and an outstanding learning environment.
At Curtin, you'll study undergraduate chemistry in the same building as up to 300 practising graduate chemists – maximising your exposure to industry, potential employers and real-world applications of chemistry. In your third year there are opportunities to undertake projects within those organisations or collaboratively with Curtin researchers.
How this course will make you industry ready
In this course you're encouraged to undertake at least two weeks of industry work experience.
You'll have the opportunity to undertake industry research projects at the Resources and Chemistry Precinct, which accommodates Western Australia's primary analytical chemistry facility, ChemCentre.
Student profile
View our student profile table to get an indication of the likely peer cohort for new students at Curtin University. This table provides data on students that commenced undergraduate study and passed the census date in the most relevant recent intake period for which data are available. It includes those admitted through all offer rounds and international students studying in Australia.
Professional recognition
Graduates are eligible for membership of the Royal Australian Chemical Institute (RACI).
Career information
Careers
Analytical chemist
Environmental chemist
Forensic scientist
Materials scientist
Medicinal chemist
Synthetic chemist.
Industries
Environment
Forensics
Health
Manufacturing
Petrochemical engineering.
Further study
What you'll learn
apply chemistry knowledge, principles and concepts
apply critical creative and reflective thinking to chemistry problems
access, evaluate and synthesise information relating to chemistry
effectively communicate chemistry ideas and concepts
use a range of technologies to collect and analyse data with appropriate regard to uncertainties
work as responsible self-directed and motivated learners
apply internationally accepted scientific conventions standards and protocols
demonstrate respect for cultural diversity in professional life
work safely effectively and ethically in a multifaceted scientific environment
Help is at hand
See our frequently asked questions or get in touch with us below.
---
Opening hours:

Mon to Fri: 8.30am – 4.30pm, except Tues: 9.30am – 4.30pm (AWST). Closed public holidays.
The offering information on this website applies only to future students. Current students should refer to faculty handbooks for current or past course information. View courses information disclaimer.

Curtin course code:

MJRU-CHEMI

Last updated on:

July 2, 2022
Which statement best describes you?