This internet browser is outdated and does not support all features of this site. Please switch or upgrade to a
different browser
to display this site properly.
Units in second semester 2020 may be delivered online and in alternative formats whilst restrictions in relation to the COVID-19 pandemic are in place.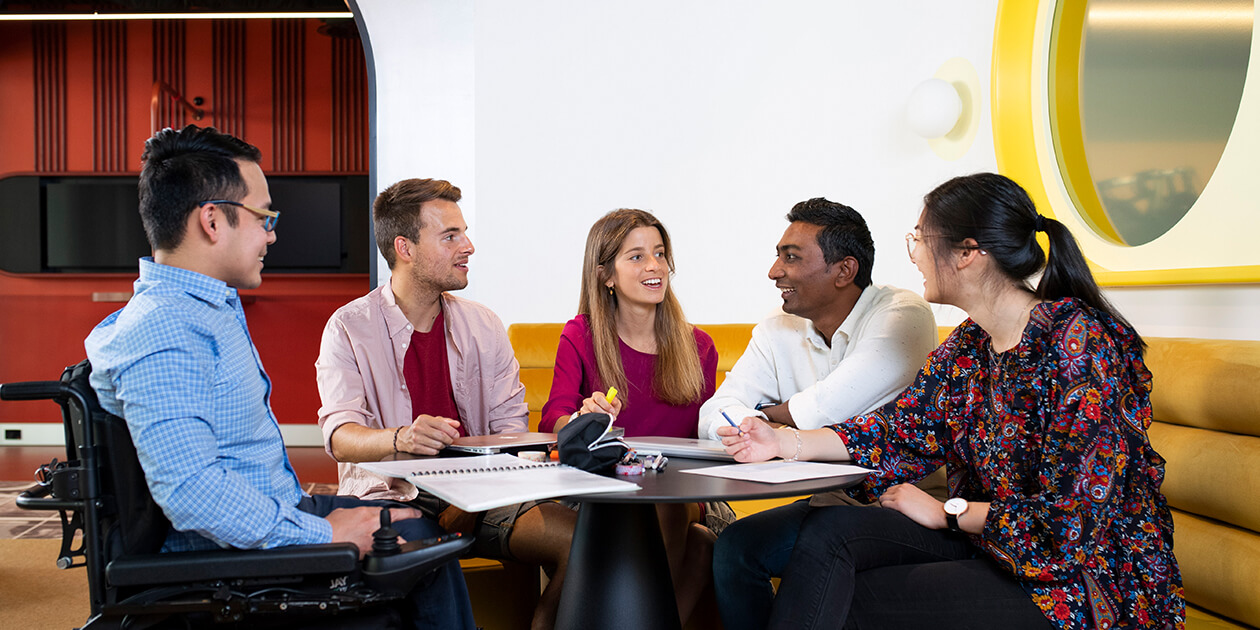 Creative Writing
Undergraduate Double Degree Major
MDDU-CRWRI
Major

Creative Writing Double Degree Major (BA/BCom)
400
Outline
Develop your writing skills in fiction, poetry, writing for performance, and experimental and emerging genres.
Transferable skills
Humanities courses teach transferable skills for international careers.
Five star
Five star rating for overall experience, skills development, teaching quality and learner engagement.
(Good Universities Guide 2019)
Industry links
Many teaching staff are acclaimed authors.
Through this double degree major you will develop skills in a variety of creative writing forms and styles.
The standout feature of a successful creative writing career is the ability to contribute to and influence culture through an understanding of writing conventions and literary techniques.
Do you enjoy expressing your creative side through writing? Are you an aspiring author or poet? In this major you'll gather the knowledge and techniques that writers need in the age of digital communication and entertainment.
You'll develop skills across various writing styles, including fiction, poetry, writing for performance, and experimental and emerging genres.
You'll also benefit from the advice of Curtin's experienced tutors (many of whom are acclaimed authors) and through critical engagement with your creative peer group.
Please refer to the handbook for additional course overview information.
How to apply
This major sits within the double degree combination of Bachelor of Arts and Bachelor of Commerce. To apply for this major, you will apply for the Bachelor of Arts and Bachelor of Commerce double degree. In step 3 of the application process, you will be asked to confirm the major you wish to study.
Applying as an undergraduate student is easy. For information tailored to your situation, visit our easy to follow instructions to get your application started.
Ready to apply?
Student profile
View our student profile table to get an indication of the likely peer cohort for new students at Curtin University. This table provides data on students that commenced undergraduate study and passed the census date in the most relevant recent intake period for which data are available. It includes those admitted through all offer rounds and international students studying in Australia.
Career information
Careers
Copywriter / writer
Publisher
Editor
Industries
Publishing
Advertising
Creative arts
What you'll learn
identify, explain and apply the key disciplinary concepts in Creative Writing
integrate theory and creative practice; conceive, develop and evaluate innovative new writing
access and evaluate the sources, authority and relevance of information and synthesise key facts, themes and ideas in writing
communicate ideas to a range of audiences and in a variety of media and genres
use technologies to access resources, communicate effectively and develop writing and research skills
use disciplinary skills and knowledge to learn how to learn, and apply these insights to new writing and to the different intellectual and professional roles required of a writer in the broader community
acknowledge the interrelationship between local, national and global perspectives and the impact of this on writing and the creative industries
value a range of cultural knowledge and take care to represent these, where appropriate, in an ethical and professional manner
work independently and/or collaboratively to produce innovative and informed creative writing that contributes meaningfully to contemporary culture
Advanced standing
At Curtin, we understand that everyone's study journey has been different.
You may have already studied some of the units (subjects) listed in your Curtin course at another educational institution, or you may have work experience that matches the degree requirements.
A successful CRL application exempts you from having to complete certain units within your course and means you could finish your degree in a shorter amount of time.
CRL is also known as recognition of prior learning, advanced standing and credit transfer.
Use the CRL search to find out how much CRL you qualify for, or contact us at:
Email: ci-enquiries@curtin.edu.au
Tel: +61 8 9266 5888
How to apply
Please review information on how to apply for the campus of your choice
Apply now
Help is at hand
See our frequently asked questions or get in touch with us below.
Opening hours: Mon–Fri: 8:00am–5:00pm (UTC+8) excl. public holidays.
Call us: +61 8 9266 5888
The offering information on this website applies only to future students. Current students should refer to faculty handbooks for current or past course information. View courses information disclaimer.

Curtin course code:

MDDU-CRWRI

Last updated on:

December 17, 2019
What kind of study are you interested in?