This internet browser is outdated and does not support all features of this site. Please switch or upgrade to a
different browser
to display this site properly.
Units in second semester 2020 may be delivered online and in alternative formats whilst restrictions in relation to the COVID-19 pandemic are in place.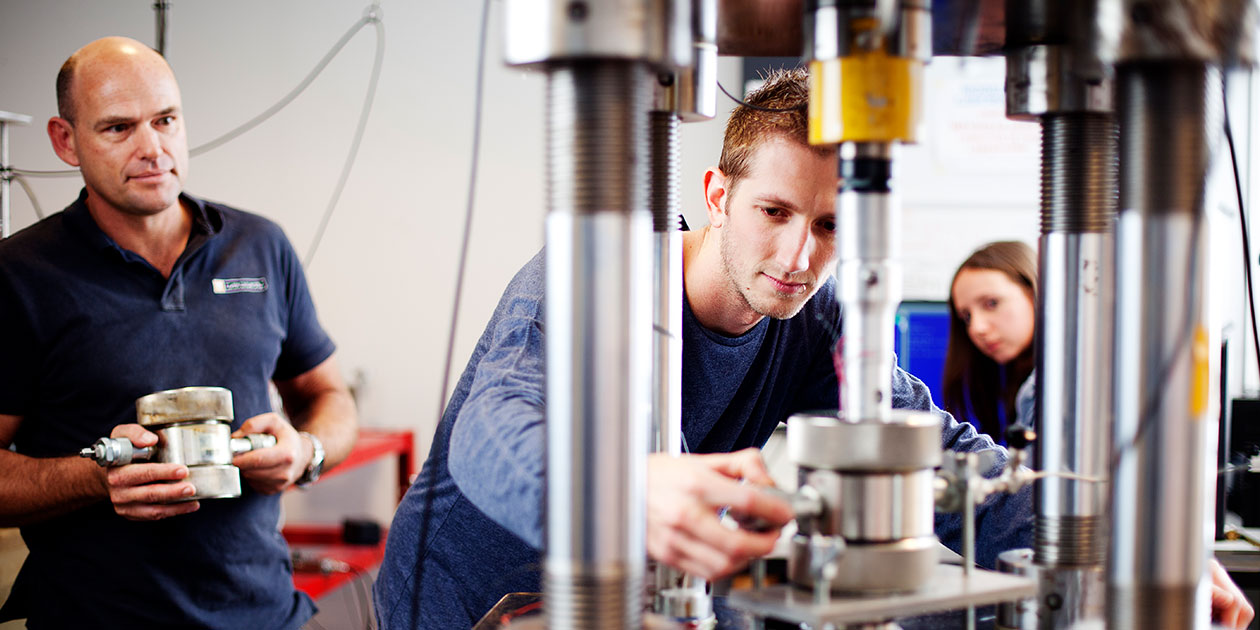 Geophysics
Undergraduate Major
MJRU-GPHYS
Major

Geophysics Major (BSc Science)

Admission criteria

Guaranteed ATAR 70
600
Outline
Study the Earth's interior, find natural resources and identify environmental hazards.
Cutting-edge
Graduate ready to work in environments where research and discovery abound.
Professional recognition
Professionally recognised by ASEG; SEG (US); EAGE, and the Australasian Institute of Mining and Metallurgy.
Top 1 %
Curtin is ranked in the top one per cent of universities worldwide.
Academic Ranking of World Universities 2020.
Geophysicists study the interior of the Earth. They explore for natural resources – including minerals, groundwater, and oil and gas – and address environmental engineering problems such as natural hazards and carbon storage.
This comprehensive course is the only course of its kind in Australia. It will prepare you for a professional career in exploration geophysics and provide you with understanding and practical training in a range of geophysical exploration methods, including data acquisition, processing and interpretation.
During your studies you'll have hands-on experience using industry-standard equipment and software, while developing background knowledge in geology, mathematics and physics.
You'll gain a thorough grounding in all non-invasive geophysical techniques used in exploration, including seismology, magnetics, gravity, radio-metrics, electrical, electromagnetics and ground-penetrating radar.
This major sits within the Bachelor of Science (Science) degree.
Double degree options
You can study a Bachelor of Science (Geophysics) with a Bachelor of Science (Applied Geology).
See our handbook for more course information.
Why study
This course offers a hands-on, interactive approach.
Curtin has excellent links with industry, and our lecturers have real industry experience.
You will have excellent opportunities for work and graduate employment programs.
How this course will make you industry ready
This course provides you with a hands-on, interactive learning experience. During your studies you will use industry-standard equipment and software.
You will benefit from Curtin's recognised links with industry, and engagement with lecturers who have real industry experience.
Student profile
View our student profile table to get an indication of the likely peer cohort for new students at Curtin University. This table provides data on students that commenced undergraduate study and passed the census date in the most relevant recent intake period for which data are available. It includes those admitted through all offer rounds and international students studying in Australia.
Professional recognition
This course is recognised by the Australian Society of Exploration Geophysicists; The Society of Exploration Geophysicists (United States); European Association of Geoscientists and Engineers; and the Australasian Institute of Mining and Metallurgy.
Graduates are eligible for membership of the Geological Society of Australia, Australian Institute of Geoscientists, and the Petroleum Exploration Society of Australia.
Career information
Careers
Archaeologist
Geologist
Geophysicist
Government geological surveyor
Mineral exploration specialist
Researcher
Industries
Oil and mineral exploration
State and federal government
Further study
What you'll learn
apply geophysical principles and methods to exploration problems
apply logical and rational processes to analyse geophysical information
access, evaluate and process geophysical and related information from multiple sources
communicate in ways appropriate to the geophysics discipline
use and apply geophysical technologies recognising their advantages and limitations
demonstrate ability to independently acquire knowledge
consider issues from global perspectives and meet international standards
work in interdisciplinary groups within a global/international framework
work ethically and professionally, both within a team and independently
Help is at hand
See our frequently asked questions or get in touch with us below.
Opening hours: Mon–Fri: 8:00am–5:00pm (UTC+8) excl. public holidays.
Call us: +61 8 9266 5888
The offering information on this website applies only to future students. Current students should refer to faculty handbooks for current or past course information. View courses information disclaimer.

Curtin course code:

MJRU-GPHYS

Last updated on:

September 15, 2020
What kind of study are you interested in?