This internet browser is outdated and does not support all features of this site. Please switch or upgrade to a
different browser
to display this site properly.
If COVID-19 restrictions apply, we may need to make changes to units and/or delivery modes.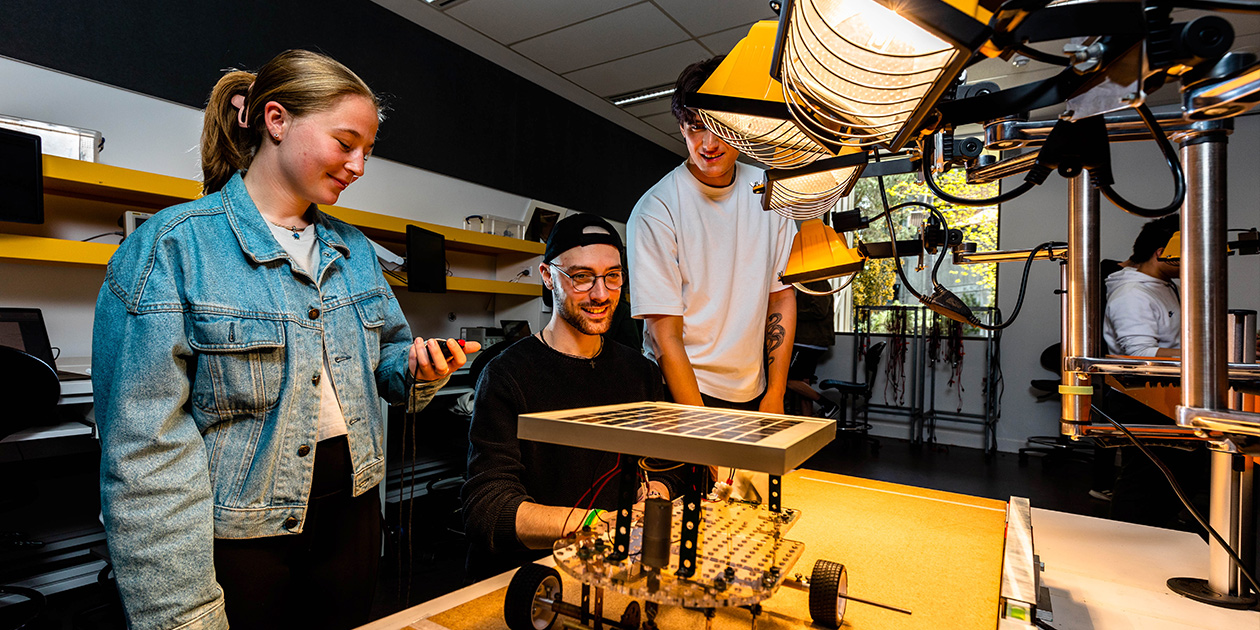 Mechatronic Engineering
Undergraduate Major
MJRH-MXENG
Major

Mechatronic Engineering Major (BEng Hons)

Admission criteria

Guaranteed ATAR 80
600
Outline
As the world becomes increasingly automated, the opportunities for mechatronic engineers are booming.
If COVID-19 restrictions apply, we may need to make changes to units and/or delivery modes.
Qualify sooner
Start working as a professional engineering graduate in just four years.
Professional recognition
Graduates fulfil the stage one competencies required by Engineers Australia for a professional engineer.
Top 1 %
Curtin is ranked in the top one per cent of universities worldwide.
Academic Ranking of World Universities 2021.
Mechatronic engineers work at the interface of mechanical devices and electronic control systems.
With the ever-increasing reach of robotics and autonomous systems, mechatronic engineers are found in diverse industries including aerospace, agriculture, biotechnology mining and energy resources.
As the number of industries that are innovating through digital technologies grows, so do the opportunities for mechatronic engineers. Rapid advances in automation applications – such as self-driving vehicles and mine-site automation – are driving an increased need for mechatronic engineers with expertise in mechanical, electronic and computer systems engineering.
Numerous industries, including mining, transportation, agriculture and biomedical engineering, also require mechatronic engineers to work towards solutions for some of society's most pressing problems.
As a mechatronic engineering student, you will develop sound theoretical knowledge in the key disciplines of mechanics, electronics, computer systems and control. You'll apply this knowledge and develop practical skills through a series of projects on topics including mobile robot communications and automation, pneumatic automation systems and machine control.
In your final year of study, you'll undertake a major research or design project.
Double degree options
You can study a Bachelor of Engineering (Mechatronic Engineering) with a Bachelor of Science (Computer Science).
See our handbook for more course information.
How this course will make you industry ready
This major will equip you with a range of engineering skills and knowledge, enabling opportunities in mechanical design, instrumentation, automation, robotics and other fields.
Student profile
View our student profile table to get an indication of the likely peer cohort for new students at Curtin University. This table provides data on students that commenced undergraduate study and passed the census date in the most relevant recent intake period for which data are available. It includes those admitted through all offer rounds and international students studying in Australia.
Professional recognition
Graduates fulfil the stage one competencies required by Engineers Australia.
This course has been formally endorsed by the Naval Shipbuilding College.
Career information
Careers
Mechatronic engineer
Mechanical engineer
Automation engineer
Computer systems engineer
Data scientist
Industries
Aerospace
Agritechnology
Autonomous vehicle
Biosensors and security
Biotechnology and biomechanics
Manufacturing
Mining and resources
Oil and gas
Renewable energy
Robotics
Subsea engineering
Further study
What you'll learn
work effectively in teams with an international and cross-cultural perspective.
continuously develop their potential as a professional engineer contributing positively to the community at large.
be 'employment-ready' for the engineering profession, but readily adaptable to other professions/occupations and able to respond to entrepreneurial opportunities.
apply a sound working knowledge of the principles that underpin mechatronic engineering.
apply creative and analytical thinking skills when designing mechatronic solutions for engineering problems.
access, evaluate and synthesise information from multiple sources when designing mechatronic solutions
communicate effectively with a wide range of both engineering and non-engineering personnel.
apply knowledge using a realistic and practical approach to problem-solving and designing with mechatronics.
apply self-discipline and self-management skills, and set goals for themselves.
Help is at hand
See our frequently asked questions or get in touch with us below.
---
Opening hours:

Mon to Fri: 8.30am – 4.30pm, except Tues: 9.30am – 4.30pm (AWST). Closed public holidays.
The offering information on this website applies only to future students. Current students should refer to faculty handbooks for current or past course information. View courses information disclaimer.

Curtin course code:

MJRH-MXENG

Last updated on:

May 26, 2022
Which statement best describes you?