Culture, society and Indigenous
Launch your career with a mentally challenging course that takes debate and critical thinking to a new level. Learn the dynamics of different societies and cultures, study the written word and its applications and explore and discuss contemporary issues in today's society. You'll gain a range of skills that you can apply to different careers and may tailor your studies to suit your interests.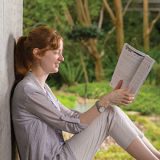 Helen Stewart
I really enjoyed the interactive nature of the classes and the opportunities to study from real-life sources of Japanese in a creative way. The opportunity to go on an exchange and participate in the Kobe University Summer Program were defining parts of my study experience at Curtin.